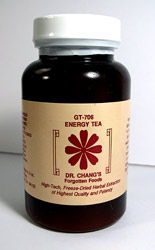 GT #706 - Energy Combination
Ingredients: Ginseng, Atractylodes (white), Poria, Licorice, Tang Kuei, Paeonia, Cnidium, Rhemannia.
Combination's Energy Level: Middle Warm
Combination's Taste: 60% Sweet, 20% Piquant, 10% Sour, 10% Bitter
Main Meridians: LV, H, TH, HC, SI, SP, S and L
[an error occurred while processing this directive]
Blood building, especially for women with low energy, anemia, pale color, slow pulse, etc.
Fast overall tonic.
Dry skin, unhealthy hair; nerve inflammation; rheumatism, congested lungs; irregular menstruation; food absorption; nervousness; blood circulation; anemia.