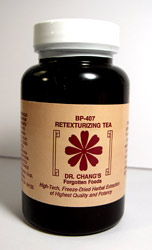 BP #407 - Retexturizing Combination
Ingredients: Tang Kuei, Rhemannia, Gypsos, Siler, Atractylodes, Akebia, Anemarrhena, Cicada, Sophora, Schizonepeta, Sesame, Licorice.
Combination's Energy Level: Low Cool
Combination's Taste: 45% Sweet, 40% Piquant, 10% Bitter, 5% Salty
Main Meridians: Sedates SP, L and TH and energizes S.
[an error occurred while processing this directive]
Skin disorders, such as psoriasis, eczema, boils, sores, ring worm, dry skin, athlete's foot, fungus, shingles, herpes (not genital), over-all itchiness.
Poison oak.
Benefits enhanced when on a diet excluding butter, margarine, refined sugar and shellfish.
Benefits enhanced when used in conjunction with Royal Jade Cream.
Notes: In rare observations, improvement in psoriasis was preceded by a temporary worsening of the condition.